Hi Mike and Community,
First, allow me to begin to say, "Mike, you're a legit hero of mine. I've learned and continued to learn SO much from you, your work and your content." (I recently played the Banana Mic vid at a team meeting for a laugh.)
Ok, here's the issue:
I'm writing in seeking guidance/support on a new issue I've begun running into on the reg in Audition that I'm trying to figure out/troubleshoot.
Here's a link to a YouTube video that demos the issue described below: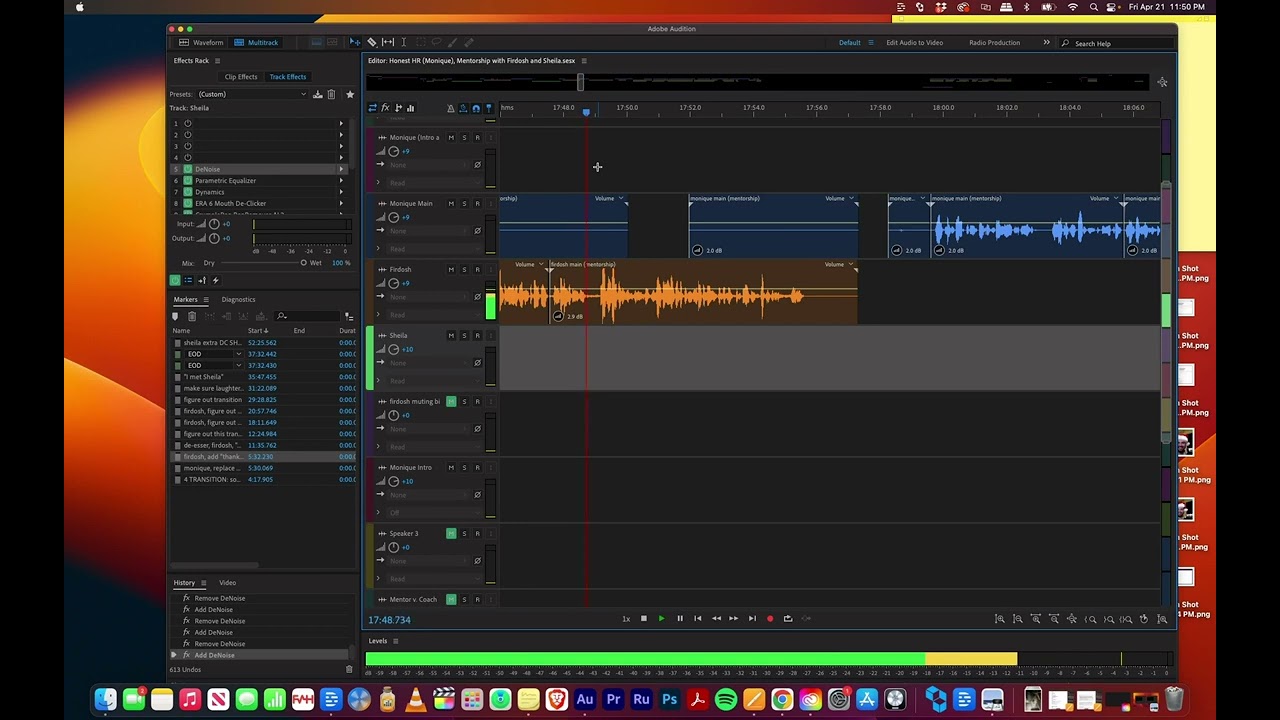 I've applied DeNoise to a track (in Multitrack), but then after ~20 seconds of continuing work/usage, DeNoise stops working.
If I remove DeNoise from the Effects Rack, and add it again, it once again functions properly, but then after a short period of time, it will AGAIN stop working, as depicted in the video.
I can't tell if there's something I'm doing that's making DeNoise stop working. This happens in projects VERY often; it's not tied to this specific project.
It also happens to different tracks within the same project.
Audition version: 23.3
MacOS Ventura 13.3.1
Quitting and restarting Audition doesn't resolve the issue.
Restarting my laptop doesn't resolve the issue.
I haven't yet tried uninstalling/reinstalling Audition yet; I first wanted to seek out solutions/guidance, see if others have experienced this issue, etc. If you happen to have any guidance, troubleshooting, experience running into this, things to try, etc, I'd be SO appreciative; it is really wrecking my ability to get anything done in Audition.
I do think there's likely SOMETHING specific I'm doing that prompts this issue, but I haven't been able to figure out what mechanic/action step/keystroke, etc. might be causing this.
I think my final question is, "Is this an app bug, or is the problem instead maybe local/something screwed up with my computer (a 2020 MacBook Air)?"
I haven't yet been able to find any other reports online of the issue.
Oh, it's probs also responsible to ask, "Are there any workarounds to try?" (Yes, I know I could apply DeNoise to the recording via the Waveform/Spectral Frequency view, but it's not preferable just because of the ongoing flexibility of applying effects via the Multitrack view, having to Apply the effect, save it, having to go back into Waveform/Spectral Frequency view to undo, losing the ability to easily revert the effect after I've quit Audition, etc.
Thanks.
Tony